Joseph Bradley Sr was born in Harrison Arkansas April 15th 1924. He was the third of three sons of Walter and Gertrude Bradley. His father was a Presbyterian minister. Soon after his birth my father's family moved to Carthage Missouri where Walter assumed duties as the minister of the Carthage Presbyterian Church.

At the age of 12, my fathers family was once again on the move to Iago Texas. Again following his father's call to lead the local church in worship. My dad would spend his teen years in Iago until the early 1940's when he left home to attend college at Texas University. In 1942 my father answered his country's call to duty when he volunteered for the United States Marine Corps.

In the Marines, dad became a field radio operator. His tour of duty in the Marines would take him to the South Pacific, where he and his unit engaged in battle in the Mariana Islands. The capture of the island of Sipan resulted in the construction of a remote air base in which the famous Enola Gay would depart and drop it's nuclear payload on the cities of Hiroshima and Nagasaki, bringing World War II to an end.

After the war he went to Kansas City Missouri where he attended commercial radio school so that he could get his FCC license. It was in Kansas City where dad met my mom, Frances Jean Henricks. Mom was working as a bank teller there. After a short engagement they were married and soon moved to Houston Texas. In Houston dad became employed with Eastern Airlines as a radio operator.

Dad would continue to work for Eastern Airlines for the next 38 years. He would transfer to Greensboro North Carolina, then Atlanta Georgia. He was father to 4 children: Joseph Lee Jr., Mark Allen, Elise Janelle, and me, Douglas Jerome. Our family settled in Forest Park Georgia for several years. My siblings and I consider the Forest Park area our roots as it was the place we all grew up. As we grew older we all went our separate ways. Mom and Dad moved from Forest Park to McDonough Georgia in 1985.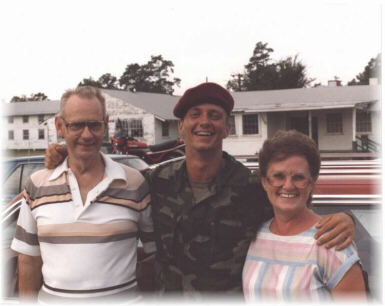 (My Dad, me and Mom, Airborne Graduation 1984)

Dad passed away unexpectedly June 8th 1999. He was 75 years old. He and my mother had been together for 52 years. His life was spent as a gentle, loving and caring man. Dad would do anything he could for anyone. He truly would give you the shirt off his back and never ask you for a thing in return. I am the lucky son of such a wonderful man. I am grateful to him for so much of what has made me the person I am today.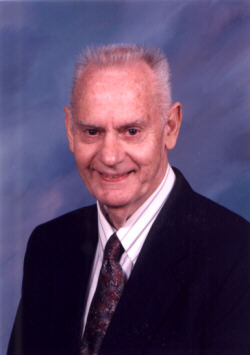 Joseph Lee Bradley Sr.

Thank you dad for being my dad. I love you.